Jun. 02, 2021
Royals Rummage Sale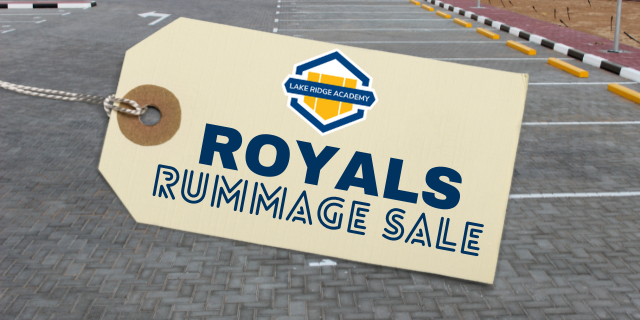 Free and open to the public! Join us for a day of fun, shopping, and helping to raise money for the Lake Ridge Academy Parents Association.
June 26, 2021 | 9 a.m. – 3 p.m.
For Shoppers
Join us on Saturday, June 26, 2021 from 9 a.m. to 3 p.m. for the Royals Rummage Sale, where you'll be sure to find many new treasures! Concessions and baked goods will also be available. Come hungry!
For Sellers
Reserve your space in our east parking lot and come prepared to unload your treasures! Your reservation provides one parking spot (approximately 9′ x 18′) where you can sell from your trunk or setup a table, tent, etc. We provide the space — you provide everything else! If one spot is not enough, additional spaces can be reserved at a discount.
Pricing for members of the LRA Community (teachers, staff, students, grandparents, parents) is $25 for one space or $40 for two. Additional spaces can be added on for $10 each.
For non-LRA Community Members, a single space is available for $30, two for $50, and additional spots for $15 each.
When reserving your space, please be sure to provide a phone number or email address where we can reach you, especially for any last-minute updates or cancellations due to weather.
Setup will run from 7 – 9 a.m.
Prior to the sale, you will receive a more detailed seller information via e-mail. PLEASE CHECK YOUR SPAM EMAIL FOR THIS MESSAGE. If you do not receive this confirmation letter at least one week prior to the sale, please contact us at lrafundrive@gmail.com. Registering is final and requires payment, no refunds or cancellation. Spaces are on a "first come, first serve" basis. Proof of your relationship to the LRA community may be required.
For Donators
If you don't want to run your own sale, no worries! Donations can be made to the LRA Rummage Table. Sign up here for a drop-off date and time. We welcome anything clean and usable, including small furniture and baby/kid toys.
You can also contribute by donating to our bake sale! Sign up here to contribute to our sweet sale!
For Volunteers
Interested in helping? We need volunteers to help with setup, check in, running the LRA Rummage Table, and running the concessions/bake sale table. It takes a lot of help to run a successful sale, so please consider contributing!
To volunteer to help on the day of the event, sign up here.
Subscribe to receive PA news by email, so you're always up to date!